E-commerce Case Study
Kalm with Kava

Client Overview & Goals
Kalm with Kava is a Billings, Montana-based company specializing in selling high-quality Noble kava products sourced directly from small farmers. Kava is a plant grown primarily in the South Pacific Islands, harvested for its root and stump, which are ground down into a powder for use in a variety of kava products, the most popular of which is a natural, non-alcoholic beverage used for relaxation.
Kalm with Kava worked with Big Storm to grow their online presence, improve digital sales, and accurately track where their digital marketing dollars were going so they could see a measurable return on investment and allocate money to the channels that would have the greatest positive impact on their business.
 Our Approach & Results
Kalm with Kava gave us the freedom to create a unified, customer-focused approach to their digital presence that blended PPC, SEO, website design, social media marketing, and email marketing to maximize the effectiveness of their marketing campaigns. This allowed us to create a seamless experience that delivered a consistent brand message to the customer, no matter where they chose to interact with Kalm with Kava online.
Since we started working with Kalm with Kava in 2016, their web presence, revenue, and social media engagement have all increased dramatically.
increase in digital revenue between 2016 and 2020
increase in website traffic between 2016 and 2020
increase in conversion rate between 2016 and 2020
year over year (2020 v 2019) increase in online sales
Pay Per Click (PPC)
We began running small-scale Google Ads campaigns for Kalm with Kava in late 2016. Since then, Google Ads has become a major contributor to Kalm with Kava's online traffic and revenue, generating 21% of all website revenue and 24% of all website traffic in 2020, while maintaining a 539% return on ad spend.
Search Engine Optimization (SEO)
We started working on SEO in early 2018, doing technical site fixes and optimizing content. Since then, our SEO strategy has grown into blog content strategy and writing, page optimization and keyword mapping, and additional on-page and off-page optimizations. Kalm with Kava now dominates the kava industry in organic search, with a revenue contribution of 27% in 2020 and 52% more than the previous year. We also helped Kalm with Kava realize an average gain of 47.97 search positions from June 2018 to December 2020.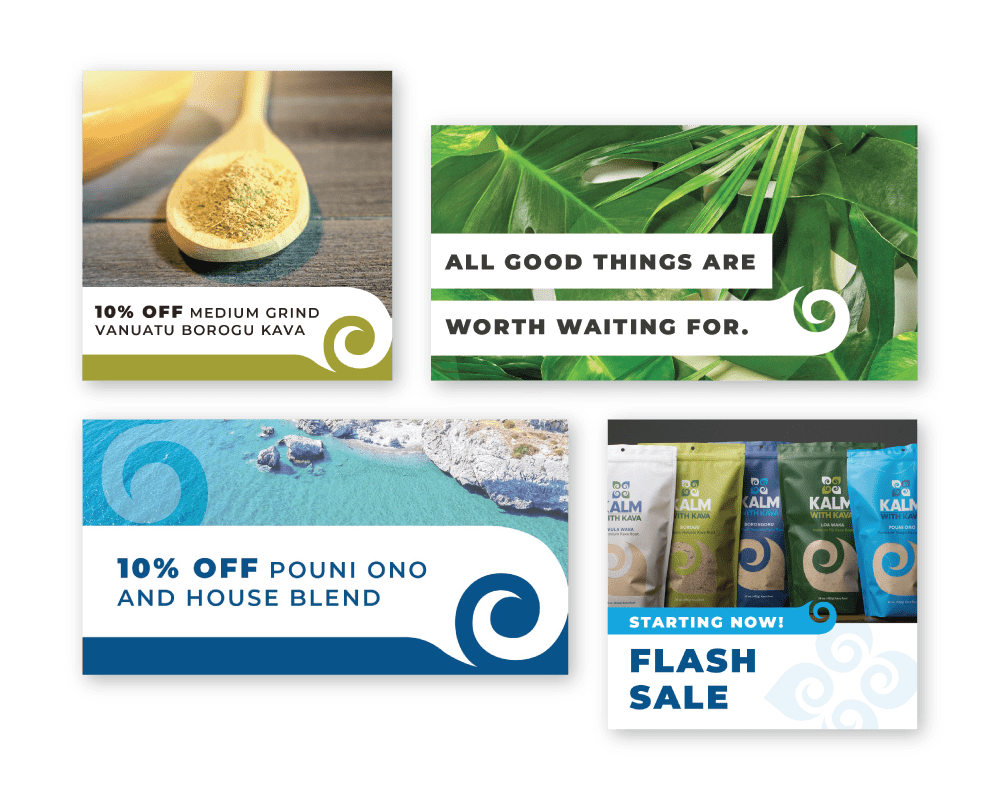 Custom Web Design
Big Storm designed and built the original website with a huge emphasis on SEO and user experience. As Kalm with Kava has grown over the years, their needs have changed and we are planning for a new website launch in early 2022. Additionally, we maintain the website, fixing any issues that pop up, contacting support for plugin issues, and constantly working on improvements and optimizations.
Organic Social Media
Big Storm began managing Kalm with Kava's social media starting the week before Black Friday/Cyber Monday of 2020. From November 19, 2020 to March 31st, 2021, Kalm with Kava's audience has grown 3.2% with 300 new followers, and their engagement rate (number of engagements per impression) has increased by 10%. Big Storm also aided in creating a consistent look and feel across all channels with branding at the forefront.
Email Marketing
Big Storm began managing Kalm with Kava's email marketing during Black Friday/Cyber Monday of 2020. The BF/CM campaign was the most successful email campaign Kalm with Kava has ever run, with email generating 10% of all revenue from that digital campaign and 27% of total contributed revenue.
Project Management
Big Storm manages all things marketing for Kalm with Kava. Issue with the website? Let us know and we'll get it taken care of. Got an idea for an upcoming promotion or product? Let's talk about it and see how we can create an omnichannel approach and maximize returns/revenue. Plus, we report on results from all campaigns and marketing efforts so we know what worked well, what didn't, and make adjustments to constantly improve.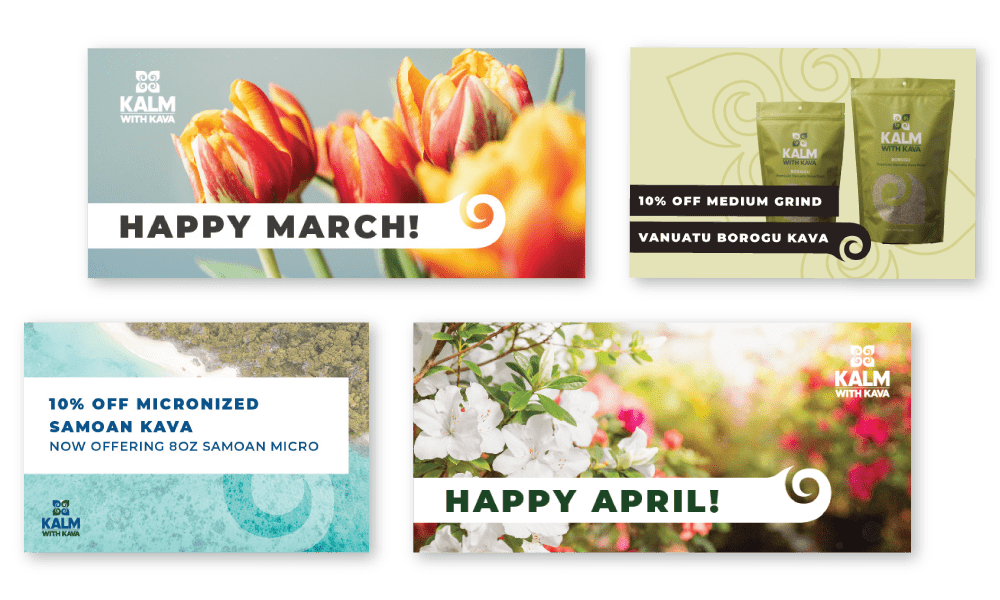 What Kalm with Kava Has to Say
Working with Big Storm is one of our best partnerships! They have made marketing and website management not only something I can now understand but enjoy working on. They are responsive to all my questions/ideas and answer in a way I can actually understand. They have helped grow our business in all areas. So happy to have them as part of our team!