Google Chrome browser shortcuts are beneficial in a variety of ways. By learning a few simple keyboard shortcuts you can speed up your searches, quickly gain valuable insights about your leads, and ultimately be more productive at home and in the workplace. They increase work productivity and help you accomplish more with less. Using shortcuts can enable you to multitask by combining the advantages of a keyboard and mouse. However, you need to keep in mind that Chrome keyboard shortcuts vary between Mac and Windows operating systems.
At Big Storm, we utilize shortcuts to increase communication and search efficiency, which is important for website and search engine optimization. These shortcuts allow us to complete business processes faster, increasing customer satisfaction, and improve our overall workflow. Wherever you are, Chrome shortcuts enable you to search at lightning speed with ease. Plus, it doesn't take a long time to learn them, so get started below by reading through the list below.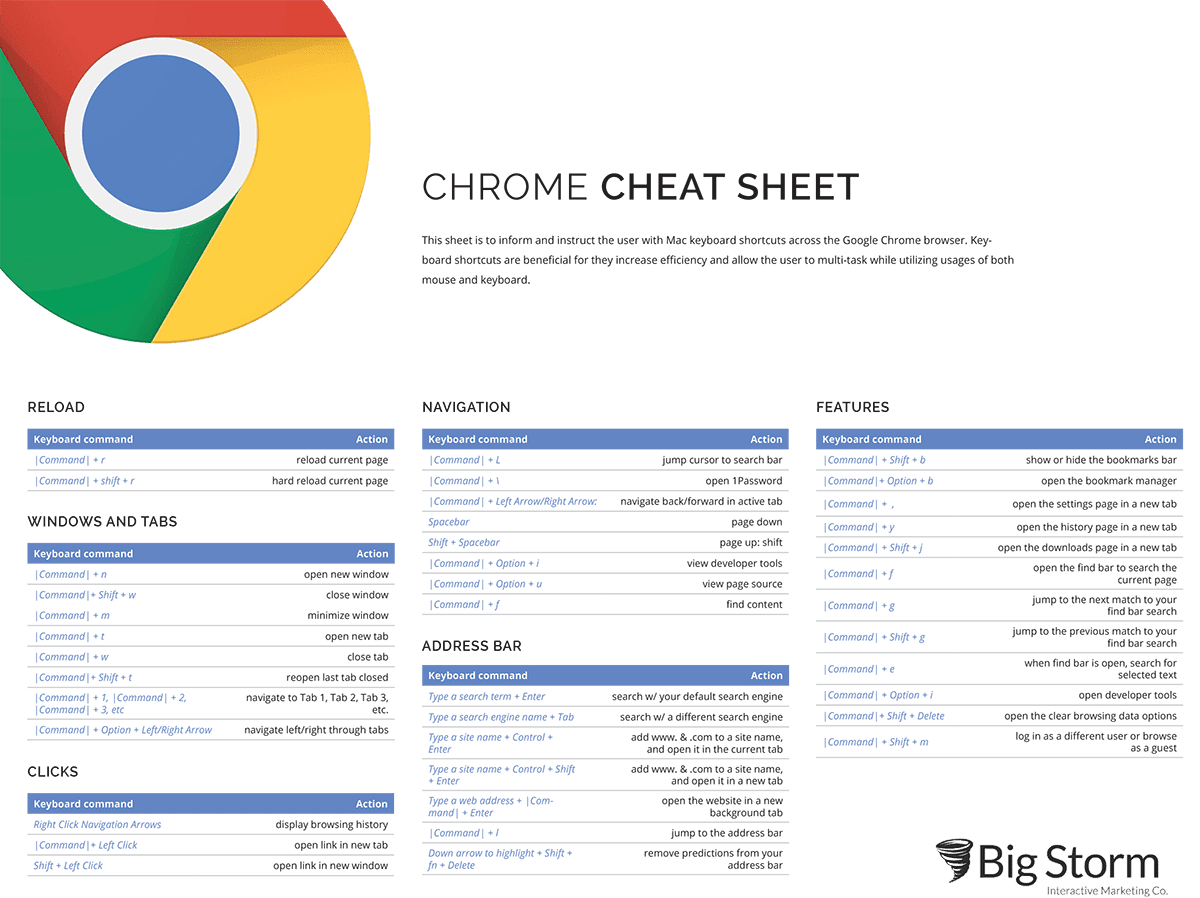 Tab Movement:
CMD + 1-9: Jumps to the tab corresponding to the number.
CTRL + SHIFT + TAB: Move to the tab left of current tab.
CTRL + TAB: Move to the tab right of current tab.
Tab Reopen / Closing:
CMD + Shift + T: reopens last closed tab
CMD + W : Quickly close tab you're on
CMD + Click Tabs: Select multiple tabs, can move selected tabs with CMD being held and dragging them.
Search Bar:
CTRL + Enter: when typing a word, control + enter will quick complete a link.
CMD + L: jump to address/search bar without the use of a mouse/trackpad.
Bookmarks:
CMD+Shift+D: Saves all open tabs into a new folder.
Right click folder, select OPEN to open all tabs in folder. Good for tabs you use daily at the start of a workday.