There are a lot of things to keep in mind when building a website. Whether you're building a new site for your established business or you're starting out and creating your first site, here are a few things to know so that you can hit the ground running:
1. Name Your Website 
Choose a name that sticks in users' heads and helps your business stand out from the crowd.
When choosing your domain name, consider clarity, availability, and legality. 
Be Clear: It is essential to be clear about who your business is and what you do. Your name is the best place to start. Including your location or specific features can also help visitors know what you do before visiting your website.
Keep it Simple: Domain names are easy to come up with. However, discovering that someone else owns them is also easy to uncover. Simple domain names are hard to grab, so if you want the .com version of the name, you may need to settle for a second choice. That said, there are more domain name extensions such as .design and .online that are newer and a little easier to come by. Just be sure to grab an additional .com variation as well to ensure people can find you. 
Investigate: Businesses of all sorts of industries and locations compete nationally and beyond, so be sure to look into trademarks before deciding on a name. There is nothing worse than getting your website up and running only to find out that there's another company with your exact name and business plan that owns all the trademarks.
Common Domain Name Questions:
Q: How can I check if a domain is available?
A: You can do a web search through most web-hosting services such as Bluehost, GoDaddy, Name.com, or your favorite domain registrar.
Q: How much does it cost?
A: This ranges, but it typically costs around $20/year to license a domain name.
Q: What if the domain name I want is taken?
A: It probably is. Most simple domain names are taken, and many of the more complicated ones are accepted too. Sometimes you can purchase these domains at auction, but be prepared to pay a pretty penny.
Q: Should I register more than one variation of my domain name?
A: Yes. We recommend purchasing variations of your name whenever possible to avoid confusion and avoid common misspellings. You can always point them to your primary domain. 
Q: Should I choose a hosting service when I purchase my domain?
A: It's unnecessary, but it can help if you know where your site will be hosted. If you are working with a company like Big Storm, they can help you set this up later and avoid paying extra hosting costs until you are ready to launch your website.
2.
Know what Hosting is
A website host is the server or storage unit where your content is stored. This can be thought of as a computer that runs 24/7 and accessible to others. Whenever someone types in your domain name into a web browser (Chrome, Safari, Firefox), the browser fetches these files from your website host. 
There are a few hosting options that you can choose from. The type of hosting depends on how many people you expect to visit your website. The more people that visit your website, the higher the hosting costs. A few of the hosting types are:
Shared Hosting:

This means you are sharing space with other businesses and websites. You get your own space on the server and only rent a small space and share some of the server features with others. This saves space and money, though it is not always ideal if you need privacy and more robust security and/or have a lot of traffic.

Virtual Private Server:

VPS hosting is still sharing space with others, but you get more capacity to handle more site visits. 

Dedicated Hosting:

The server is all yours. This is typically used by enterprise and large companies. This typically costs more and generally is not necessary for small and medium-sized businesses.

WordPress Specific Hosting:

This hosting is typically explicitly built for the WordPress framework. This hosting takes advantage of speeding up specific components and speeds up WordPress. Hosting can be Shared, Virtual Private Servers, or Dedicated Hosting, as mentioned earlier types but are usually optimized for the technologies that sit on it.
Hosting costs can range anywhere from around $125/year and can go up from there. Be careful what you pay for, as many hosts often allow their shared servers to get overcrowded and cause poor performance. For WordPress websites, we typically recommend WPEngine. WPEngine has lots of bells and whistles that will make your website run fast and includes extras like a CDN, SSL, and website caching that many other hosting platforms charge extra for. 
Once you have an idea of website traffic and security needs, you can make an easier decision. If this is your first time, typically shared hosting will do the trick.
3. Know What you Want your Website to do 
Whether you are redesigning your website for the 100th time or starting a new software startup from the ground up, you should outline your goals. Goals should be SMART (Specific, Measurable, Achievable, Relevant, Time-bound).
Some examples of website design goals that we find helpful are:
Generate qualified leads through better clarity around the organization

Reduce unqualified leads

Increase reach

Encourage repeat business 

Increase online sales by x% 

Convert website visitors into customers

Increase the number of pageviews

Increase the number of downloads

Reduce phone calls by x amount through enabling website self-service

Increase ad clickthrough rate (CTR)
The goals you come up with will vary by your business model and the focus, though if you want to succeed, think about what users would visit your site for and not just what your business goals are. This could include things like:
Receive faster, more straightforward support

Understand the product/service

Get a phone number

Talk to a person

Purchase your awesome product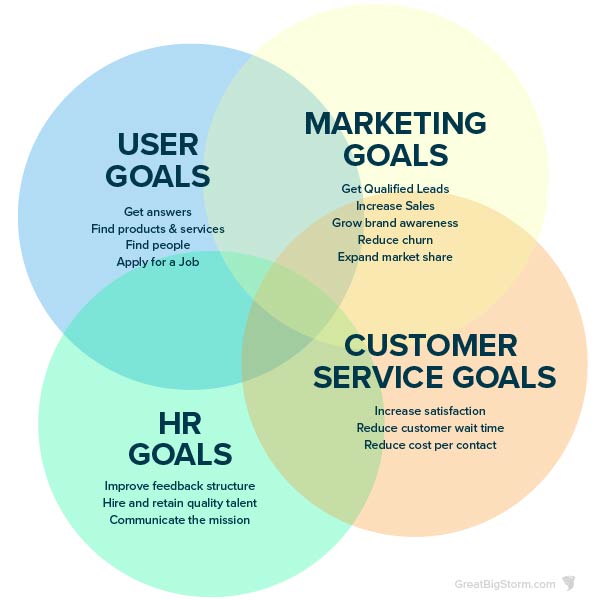 When working on the web, the website goals must be simple, and the usability enhanced. It's easy to get off message, over-animate, or add more functionality that complicates things. The best results are when the form improves the function and is simple to use. Users are here for a reason, and typically that reason is to find relevant information about what you offer, sell, provide, etc.
At the end of the website process, you will know you are successful if you are: 
Matching your visitor's goals

Matching your business goals

Usability is emphasized

Your message is simple and focused
4. Design is More than Looking Pretty
People move fast nowadays, and users will land on your website and form an impression of your company within seconds. An outdated or confusing design can make the difference between someone spending more time on your site and converting, and them clicking away to a competitor's page. Having a clean, clear design can also have a huge effect on your site's SEO (Search Engine Optimization) performance, which will help ensure your site shows up higher in the search rankings. Here are a couple of factors to consider as you build your site:
Logo: Your logo is a big part of your brand. Make sure it's appealing and is clearly, consistently displayed throughout your site. 
Conversions: Having a solid design for your site can help generate leads and conversions. Aim for things like: simple navigation, intuitive sitemap, solid and compelling content, purposeful and well-placed visuals, responsive design (so people can navigate your site on all devices), and well-designed CTA (call-to-action) buttons that stand out and drive action.
5. Get Your Business Email
Make sure that your business email has your domain name or your business name in it. This helps with so many things from brand consistency, to building client trust and bolstering your credibility, to giving you a way to organize your employees' email addresses as your company grows. 
6. Define Your Budget and Schedule
This one is pretty simple. How much are you willing to spend, and when do you need it done by? Some website redesigns take three months, and some take six months. Costs can vary as well, but knowing what you can afford budget-wise helps. Maybe you need to spend more money on photography, or perhaps you need your checkout process dialed. There are ways to stretch the budget with general best practices and methods to ensure the quality and care are taken, and every experience is lined out for your users.
7. What Gets Measured Gets Improved
Put simply, tracking what users do on your site lets you know whether the website is accomplishing its purpose and helping you reach your business goals. To truly ensure that your site is working well, it's worth taking some time to set up some website goals and measure how the site's performing. Here are a couple of tools that can help:
Google Analytics: You can measure so much in Google Analytics, and it's free to use! Track things like how people get to your website, how long they stay on each page, and which pages they visit. All of this gives you invaluable insight into your clients' behavior, what's working, and what could be improved to drive more leads and conversions.
Hot Jar: This is a simple, effective tool that lets you gather qualitative data on your site. You can track what people do, what's working well, and where people are dropping off. Set up things like heatmaps (to track where people are looking, scrolling, and clicking) and funnel tracking. All of this can be a real game-changer for maximizing leads, sales, and engagement— basically, CRO (conversion rate optimization). 
8. Have a Plan to Market your Website and Business After Launch
After you build your website, do you have a way to let people know it exists? Building a website on its own is fine, but as they say in the classic baseball movie "Field of Dreams" if you build it, will they come? If only things were that simple as they were in the film. There are several ways to promote your website. Here are a few:
Email is the oldest and most effective way to entice repeat visitors back to your website. It can also be a great way to find new visitors and convert more sales as well. Build your list, and you won't regret it.

Online Advertising is one of the fastest ways to determine if your audience wants to buy from you and if things are set up well. You can test creativity, verbiage, keywords, and ultimately home in on what's working and what isn't. Whether it's Google Ads or Facebook Advertising, you can find out a lot quicker.

Search Engine Optimization is the art of getting found on search engines like Google without paying for the placement. Ranking online can be challenging and should be approached with strategic planning and careful tactics. 

Word of mouth is one of the most effective ways to market. The issue is that it can be hard to scale and grow. We recommend a healthy dose of networking and talking with friends to get the word out.

PR can be an excellent way to spread the word.

Affiliate programs allow you to pay a commission to other websites for each customer sent your way. 

Other tactics that can work well include: product placement, sponsorships, press coverage, industry awards, newspaper ads, magazine ads, TV Ads, Direct Mail, and many others.
Choosing and hiring a web design company for your business can be a worthwhile investment when done correctly. We hope this article helps you on your journey to finding a web design company that meets your needs. Full disclaimer: Big Storm is a web design company in Bozeman, Montana. Find out more about our web design and other marketing services.